When my co-founder of Vital Research, Dr. Gwen Uman, retired after 35 years of business partnership, I found myself faced with steering the ship alone for the first time. It was 2016 and, admittedly, I was a little nervous about the unknown. But I was also excited to reconsider the ways we did business and to think about how we could have an even greater impact on the communities and people with whom we work.
In this blog post I will document how our staff positioned Vital Research for the future through a rigorous process of development and strategy. I knew the process was not going to be easy or straightforward, and it was definitely neither, but I am extremely proud of the way my staff embraced the re-imagining of our work, which resulted in the creation of a new vision, mission, and seven guiding principles. We worked for over a year on the strategic planning process and came out of it with a final plan built around three key pillars in service of our new mission. Finally, I am pleased to see my staff diligently tackling objectives and activities months after the plan was put in place. Their dedication to this company and our work continues to impress and inspire me as their colleague and leader.
Finding Reasons for Our Work
Initially, we created a small committee, the Strategy Team, comprised of key staff members across the organization to focus solely on developing a new strategic plan. However, it quickly became clear our future strategy needed to directly tie to our overall vision and mission statements, both of which just weren't… right. This vision was shortsighted, and the mission didn't go far enough to get at who we were and what excited us as individuals, coworkers, team members, and professionals. Our work is not about just serving the needs of clients -- it's driven by a greater purpose that had yet to be fully defined. For the vision, we wanted to address one fundamental question: why do we do research and evaluation? What is it that we seek to achieve? After much discussion, we realized the key foundational element of the company was equity for all. With that solidified, we developed our new vision: At Vital Research our vision is a world where every person is valued and has equal opportunity to live life to its fullest.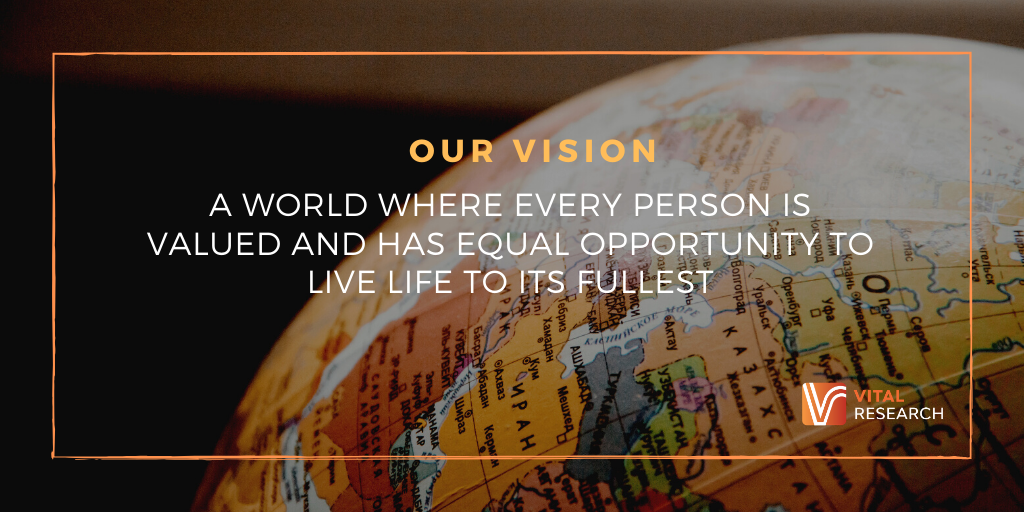 The mission statement proved to be a more difficult and time-consuming task. As a committee, we spent months crafting ideas, looking at other company statements, and taking stock of the work we do and how we could put it into words. This led to the development of some key ideas for the statement, but nothing concrete (or succinct). Rather than continue to toil in a committee, we created a contest for staff members to submit their versions of a new Vital Research mission statement using the key concepts as inspiration. Staff were allowed unlimited submissions and they jumped at the opportunity to provide their input, resulting in over 100 suggestions from more than 30 staff. The "winner" was selected (with all three top contenders winning cash prizes) and we combined their winning statement with aspects from other great submissions to develop the final mission we all can stand behind: At Vital Research our mission is to create vibrant communities by amplifying the voices of underserved populations through inclusive social science research and evaluation.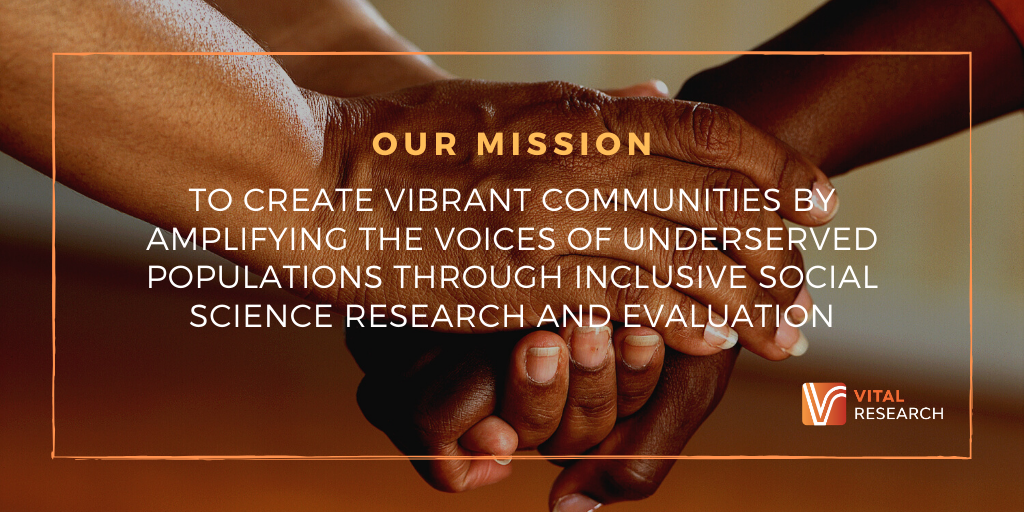 Guiding Principles
In my opinion, a vision and mission are great in theory, but they don't really change how you approach the day-to-day work. We needed to ensure that the new mission statement and vision resulted in real change, not simply lip service to the words. I wanted us to consider the cross-cutting principles that underlie our research and evaluation efforts both internally and externally. Teams had recently completed SWOT analyses to identify the strengths, weaknesses, opportunities, and threats both for their groups and the organization, and this was a perfect opportunity to incorporate their hard work into defining the guiding principles that exist across the company. The Strategy Team combined the SWOT analyses and crafted a variety of guiding principles with definitions to share with staff for feedback. At a quarterly staff meeting, the principles and proposed definitions were posted across the office and all staff were asked to visit each principle and write their thoughts, ideas, suggestions, and questions. The exercise taught us that our definitions were incomplete, and that staff felt disconnected from several different areas.
As is often the case when one is deeply invested and there are multiple opinions, there was a point where the Strategy Team felt frustrated and unproductive. We struggled with semantics, debated over minutia, and often found ourselves without consensus. With all the input from staff and the work of different teams, we were overwhelmed with ideas but found it difficult to commit to our results. To assist us in narrowing our focus, we hired a strategic planning consultant from one of our partner agencies, NPO Solutions, who came in as an objective outsider to weigh in on wordsmithing and organize the unwieldly amounts of information. After culling through responses and having deeper conversations with teams, we developed seven guiding principles that fall under three overarching pillars:
Pillar One: Community-Driven Cutting Edge Research And Evaluation
Cultural Responsiveness
Cultivating Curiosity
Pillar Two: Impact and Visibility
Strategic Partnering
Continuous Learning
Advocating for Change
Pillar Three: Sustainability
Team Engagement
Social Responsibility
Strategy In Place
With the foundations firmly set, the Strategy Team developed strategic objectives and key activities for each guiding principle, as well as how we could operationalize and implement these company-wide. We asked our different teams in the organization to think about which guiding principle was most interesting to their groups or where they already had the most traction. The teams were instructed to take half-day retreats outside of the office to focus on the tasks and further delineate activities to complete that would contribute to the overall objective. The different teams submitted their information and an analysis across the groups was conducted to identify redundancies, overlap, or wild divergence in focus or suggested activities. Four common areas from the groups emerged: Cultural Responsiveness, Sustainability, Cultivating Curiosity, and Communications. To maintain momentum and ensure that no single group had to tackle all these areas, we asked for volunteers to join one of the four committees based on the common areas of interest. Membership in any group had to include staff across the organization, with varying titles and levels of experience, and all teams were required to have one member of the Strategy Team included to ensure a consistent voice was represented.
As a member of the Cultivating Curiosity Committee (3C) myself, I can say that the experience of being in a group with staff members who rarely work together in the office has been both fun and highly productive! To my amazement, all four groups have met consistently over the last six months. Not only have they achieved some of their goals already, but they've developed new ones to accomplish in the next year.
Looking Forward
As the sole owner and now President of Vital Research, I am humbled and grateful to my staff who embody the new vision, mission, and guiding principles of this organization. Their commitment to our research and evaluation work with vulnerable populations is unsurpassed and I am looking forward to our future growth and success!